About – The KIMFF Foundation
Since the year 2000, the Kathmandu International Mountain Film Festival (kimff) has brought an eclectic mix of films from around the world focusing on mountain communities and cultures to Nepali audiences. Kimff has screened hundreds of films and organized numerous discussions on the state of the mountains and their societies – issues ranging from the political determination of mountain communities, to the emergence of identity politics in adventure sports all the way to the effects of climate change on mountainous regions.
Since 2007, kimff has screened Nepali films both fiction and non-fiction creating a separate platform entitled, "Nepal Panorama" where aspiring and experienced filmmakers have brought us films that wrestle with the state of Nepal's political and cultural landscape as only visual storytellers can. Kimff's purpose is to cultivate an informed, dynamic and resilient Nepali society. It has played a vital role in providing a forum where contemporary issues are raised and discussed through film, photography exhibits, master classes, story-telling workshops, pitch platforms and Travelling kimff.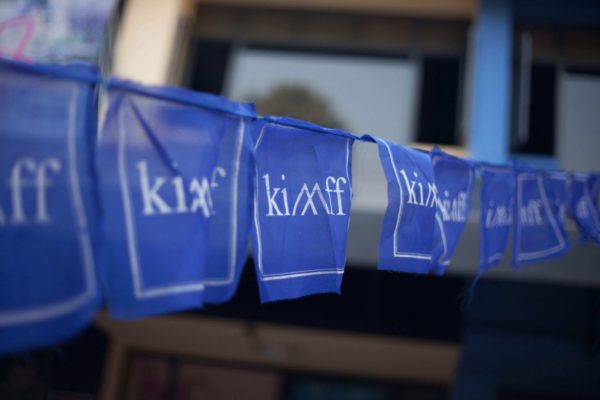 As with most organisations there comes a time when changes are dictated by a variety of circumstances, whether they be audience driven, financial implications, social change or from an organisation perspective. This moment has come for kimff.
As we approach kimff''s 21st edition in May 2024, we have re-launched KIMFF as a foundation and a private, not for profit sharing company. The kimff Foundation's goal is to build the kimff brand and institutionalise this home-grown festival and its complementing activities by collaborating with the City, local government, private and public sector partners, like-minded individuals and organisations. The Foundation seeks to establish our annual flagship festival kimff as a landmark event while exploring and fulfilling other needs within Nepal's film, education arts and culture sectors.
Kimff is the first mountain film festival in Asia, It is a member of the international alliance of mountain film (IAMF). Over the years, we have enjoyed the support of the Kathmandu Metropolitan City, the Film Development Board of Nepal, Nepal Mountaineering Association, Nepal Tourism Board, several international institutions and organisations in Nepal, including the EU, the Swiss Embassy, the US Embassy, the Australian Embassy, the British Council and from private and public sector partners.
The new Foundation will be a collaborative effort driven by a Board consisting of experts who have a solid understanding of the sectors as outlined in our Objectives. It will build sustainability into kimff's solid foundation, and further strengthen kimff's 23 year-old legacy.
To establish kimff as a nationally and internationally recognised event by creating a platform for audiences and filmmakers to interact and engage

To create a vehicle for educational, humanitarian, and cultural experience and exchange through film, media arts and digital story-telling

To create a vibrant and skilled community of filmmakers and story-tellers through formal and informal school and educational programs and exposure to global independent cinema.

To train content creators to relentlessly and effectively dig deeper, to reveal authentic stories about contemporary Nepal and create a market for independent Nepali films

To create positive social change through films and media arts that generate discourse on
Issues pertinent to the Nepali public
Ramyata Limbu
Ramyata Limbu is a media practitioner working with community, national and international organisations. She founded the Kathmandu International Mountain Film Festival (kimff) in 2000 with like-minded media colleagues. She has co-directed and co-produced several award winning feature documentaries, including "Daughters of Everest" which followed the first team of all women, Nepali Sherpa climbers to ascend Everest, "The Sari Soldiers" about the conflict in Nepal told through the stories of six women, and, "Drawing The Tiger", an intimate portrait of the price a Nepali family pays to educate their daughter. Ramyata mentors young women to become strategic visionaries and leaders who build movements that address challenges faced by women and girls. She reports for Al Jazeera English TV and is particularly committed to interlinking science and professional practice in dealing with questions of international media development.
Shekhar Kharel
Shekhar Kharel is a writer and documentary filmmaker based in Kathmandu. He is a columnist for Himal Media Group on current politics and contemporary issues. His debut documentary 'Kathmandu Odyssey' was screened at Film South Asia (FSA) 2003. Another documentary 'Rainbow over Mumbai' featured several prominent Nepali artistes who made it big on the Mumbai art and film scene. He has directed several documentaries about Nepal and has published an anthology of personal essays and a biography of Nepali music legend Ranjit Gazmer. Shekhar is a professional interpreter/translator and has translated several volumes of works in English into Nepali. He previously worked with the BBC Nepali Service in the UK as a translator and presenter, and, with the Nepal Tourism Board as a corporate manager. He has worked as an Assistant Editor at Kantipur Publications. Shekhar has an MA in English Literature and a Civilisation degree for French language.
Suman Joshi
Suman Joshi has intimate knowledge of commercial and investment banking, having started his career with ANZ Grindlays and Standard Chartered Bank in India and Nepal in the 1990s. He is the founding CEO of Laxmi Bank, where during three tenures, he conceived, managed, and scaled a number of subsidiaries for the bank. Following a successful banking career, he established True North Associates (TNA) a prominent domestic private capital vehicle. In 2018, TNA acquired a significant stake in a Dutch impact investment firm One To Watch which channels foreign capital into Nepali SMEs. Both companies support entrepreneurs with management and strategic advisory. Suman has a degree in economics and political science from Punjab University, India and executive education on private equity & venture capital from Harvard Business School. Suman was the inaugural chair of the Nepal Private Equity Association which was formed after a number of key investment firms banded together in 2020. He regularly advises Nepali corporates and institutions. Suman is constantly looking to push the boundaries of financial and entrepreneurial landscape in Nepal and is dedicated to improving the eco-system for alternative investments.
Dawa Futi Sherpa
Dawa Futi Sherpa is the president of Pasang Lhamu Foundation, an organisation dedicated to improving the lives of women and children, and, developing mountaineering and tourism in Nepal. She is a former ambassador of Nepal to Spain and the first Nepali Permanent Representative at the United Nations World Tourism Organisation (UNWTO). Dawa is on the board of the Institute of Integrated Studies and Citizen Life Insurance. Over the course of her career, she has held various positions in both non-profit and private sectors. She received her MA in International Education from New York University, USA, and has a sound knowledge of development, importance of cultural exchange and public diplomacy.
Rajan Kathet
Rajan Kathet is a Nepal based filmmaker. A graduate of the European Masters DocNomads, he is a Berlinale Talents alumnus and Global Media Makers Fellow. Rajan's first feature documentary, "No Winter Holidays," premiered in the International First Feature Competition section of the Sheffield DocFest 2023. The film is a DMZ Docs Industry Fund recipient, winner of the HAF/WIP Documentary and HAF Goes to Cannes Award, and a finalist at the Whickers TV & Documentary Pitch 2020. His short fiction, "Bare Trees In The Mist (2019)," was screened at several international film festivals, including the Toronto International Film Festival 2019, Tampere Film Festival, HKIFF, kimff, Encounters Film Festival and Short Shorts Film Festival & Asia. Rajan collaborates with national and international filmmakers through his production company Salpa Films. He is engaged in film education and mentors young filmmakers through his involvement in local film schools and filmmaking workshops. He regularly contributes to the Kathmandu International Mountain Film Festival (kimff) DocLab.