Kimff and Delegation of the European Union to Nepal
"Green Growth: Green Recovery" Short Film Competition
Do you have a story? Have you experienced climate change? How does the environment relate to you?
Kathmandu International Mountain Film Festival (kimff) and Delegation of the European Union to Nepal (EU) invite entries to "Green Growth: Green Recovery," a short film competition that
tries to address these questions. We are looking for original and creative content that explores diverse perspectives, issues, opportunities, and challenges of how the environment and climate
change have impacted Nepal and Nepalis. As extreme climates, changing weather patterns, and global debates around the environment, climate change, and sustainability take center stage, both locally and globally, we believe you should be part of this discussion.
For more information:
Kathmandu International Mountain Film Festival (kimff)
Lazimpat
tel: +977-1- 4440635
Email: info@kimff.org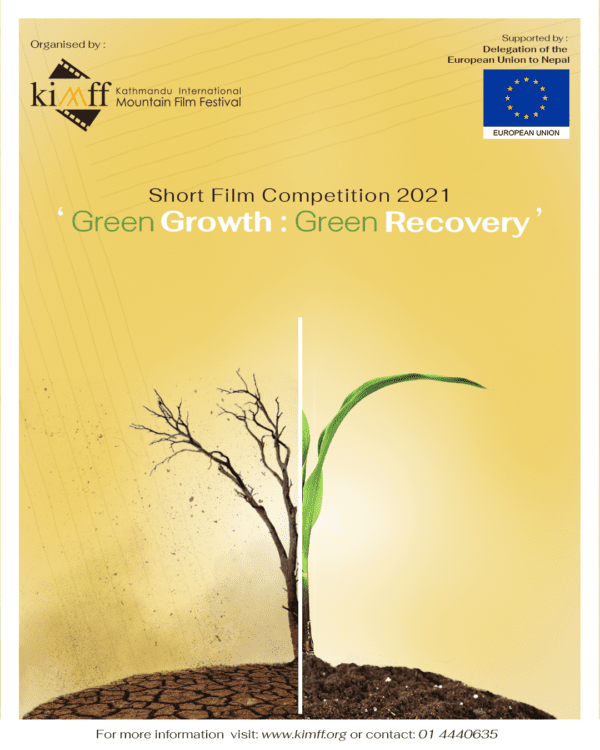 1st Prize – Euros 500
Top 10 shorts will be screened at kimff 2021 (9th -13th Dec)
The submission deadline for entries is 12th November 2021.
The footage can be shot on any video devices, including mobile or smart phones.

We welcome fiction, nonfiction and experimental shorts.

Film duration: upto 5 minutes.

Submission format: URL link.

Submission deadline: 12th November 2021
Announcement of shortlisted Top 10 Entries by Jury: 15th November 2021

The shortlisted films will be archived in Kimff and the EU for their use.

Screening and Awards: kimff 2021, 9th-13th December 2021.
Copyright of all films submitted for this competition remains with the respective Filmmaker. However, by entering this competition, the filmmakers grant the organizers, kimff and the EU perpetual license to broadcast /screen their films during and after the competition, as and when required, for non-commercial purposes. The filmmakers will be credited during such use.