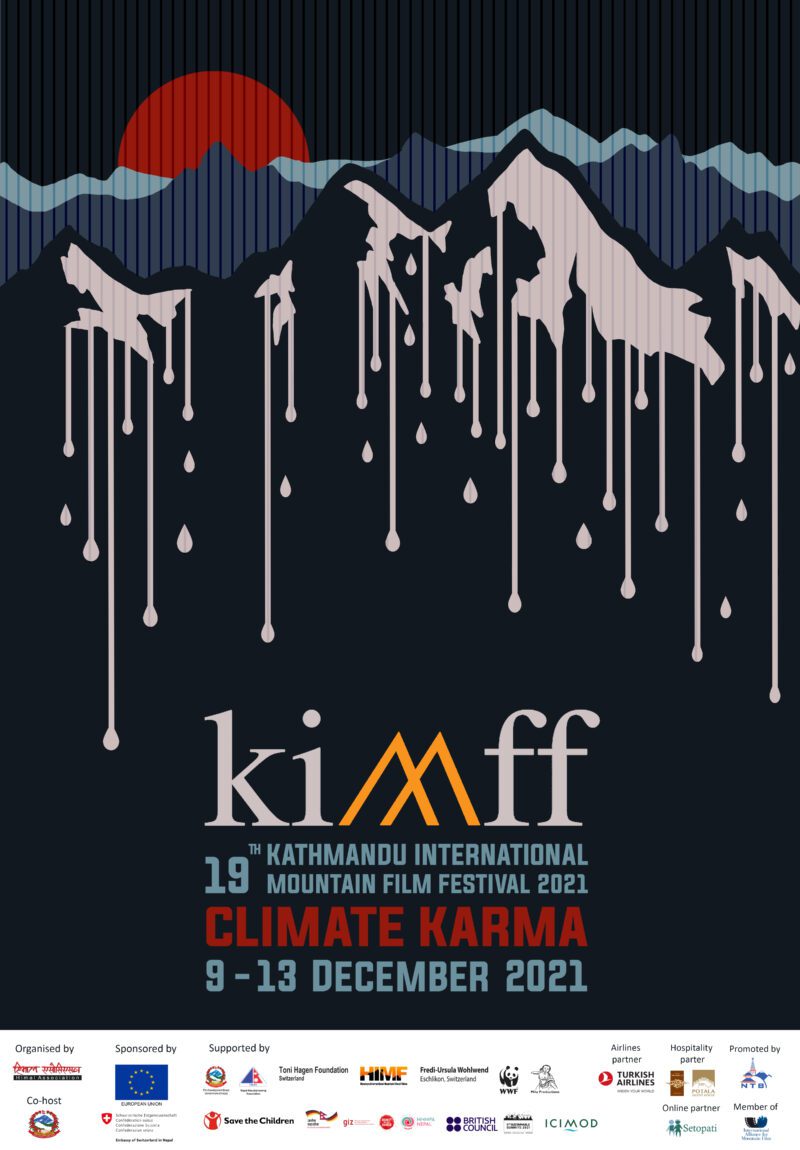 Details
Kathmandu International Mountain Film Festival 2021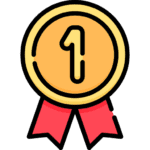 First Prize International Competition
sponsored by Nepal Mountaineering Association (NMA)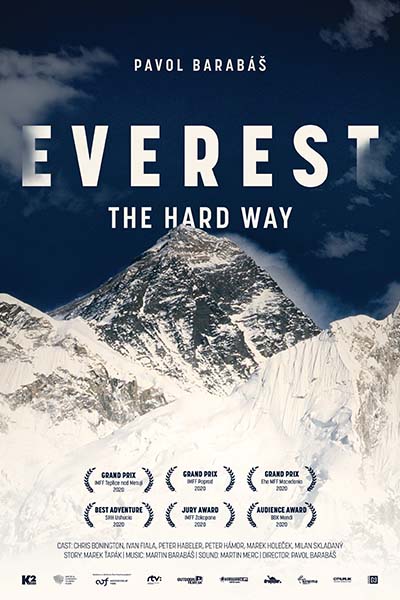 Everest (The Hard Way)
dir. Pavol Barabas | 54 min | Slovakia 2020
When Chris Bonington and his team set out in 1975 to climb the south-west face of Mount Everest, the steepest and highest face in the world, they were attempting the ultimate mountaineering challenge that many previous expeditions had tried unsuccessfully. In August, 1975 the 18-member British expedition assisted by Sherpas and supplementary oxygen, reached the top. Bonington called the route leading through the face the "Hard Way." People row their boats into the unknown, walk through endless snowy moors, descend into the depths of the earth. Some are attracted by the highest mountains in the world, by the hardest ways to get to the top. It is a way to find out what humans can do.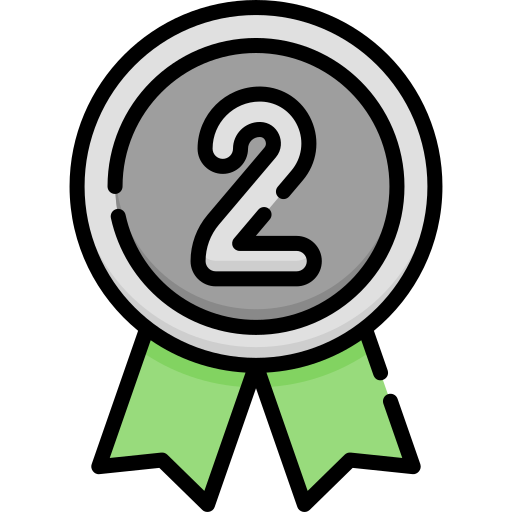 Second Prize International Competition
sponsored by Himalaya International Mountain Film of China (HIMF)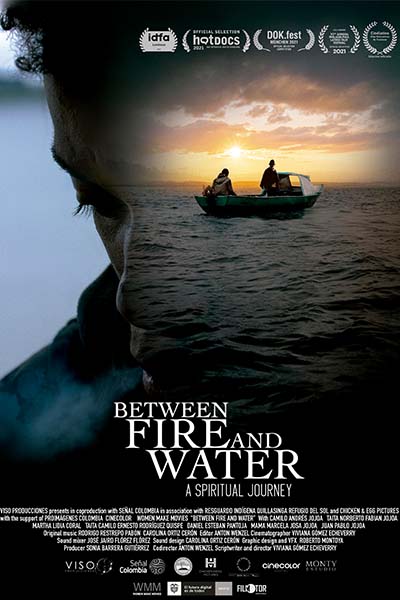 Between Fire and Water
dir. Viviana Gomez Echeverry
| 92 min| Colombia 2020
Camilo is the adopted son of an indigenous couple of the Quillasinga tribe from the Cocha lagoon, in the southwest of Colombia. He is the only black person in his community and has always felt different. For years, he has been wondering about his biological parents. The Quillasinga governor gives him ayahuasca, a sacred remedy for spiritual guidance. During this transcendent experience, Camilo has visions of his biological mother. Supported by his adoptive father, Camilo embarks on a journey to find his true identity.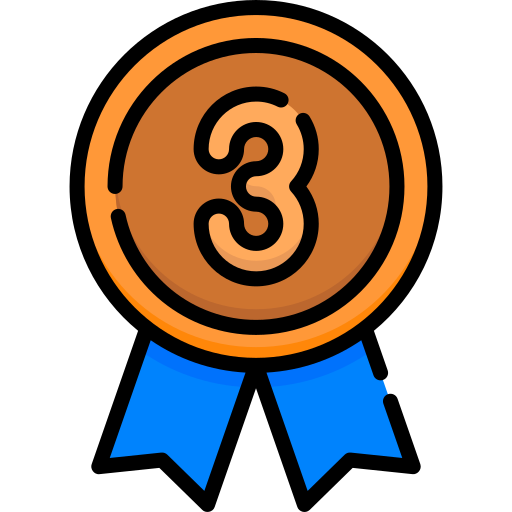 Third Prize International Competition
sponsored by Fredi-Ursula Wohlwend Eschlikon, Switzerland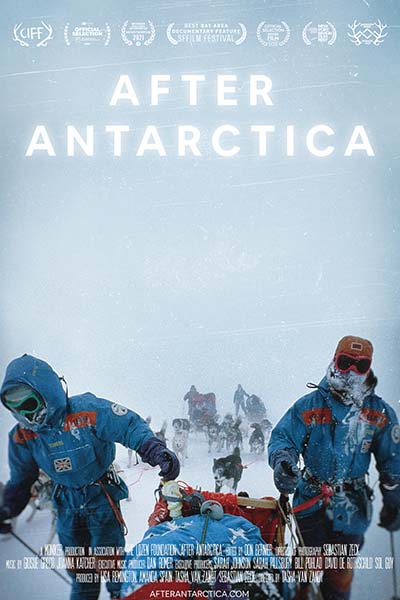 After Antarctica
dir. Tasha Van Zandt | 105 min| USA| 2021
A journey across both poles, After Antarctica follows legendary polar explorer Will Steger's lifelong journey as an eyewitness to the greatest changes to the polar regions. In 1989, an international crew of six explorers and scientists led by Steger set out to be the first humans to cross Antarctica by dog-sled. Their mission: to draw attention to the rapidly changing frozen continent and convince world leaders to renew the Antarctic Treaty, in order to shield Antarctica from industrial profiteers for the next 50 years. Now, as Steger ventures out onto the ice once again, at the age of 75 and into the Arctic tundra, he recounts the historic, death-defying journey that forever changed his life and led him to where he is today. Interspersing contemporary travels with riveting vérité archival footage, After Antarctica is a wilderness thriller that immerses us in the danger, tension, and sacrifice Steger and his team faced at every turn in order to complete their historic mission. As Steger treks into one more vast expanse at the opposite end of the Earth, his reflections crystallize into a profound cinematic memoir, a meditation on mortality, and a eulogy for the ice.
Jury Special Mention International Competition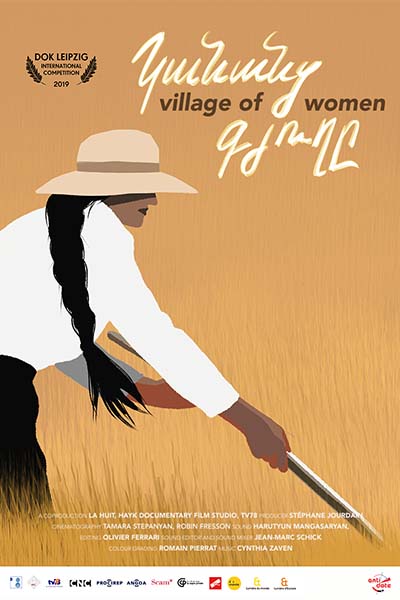 Village Des Femmes (Village of Women)
dir. Tamara Stepanyan | 83 min| Armenia/ France 2019
A village where women, children, and elderly people reside. The men are away for nine months, working in Russia. Summer has a slow, friendly atmosphere: women do the hay, cut the grass, and can fruit and put away stores for the winter. The sun arouses a laziness, a sensual relaxation. Autumn, with its shades of red, is the season of birth and of the potato harvest. Women and men find intimacy in the coldness of winter, and so women give birth in October and November. Fathers meet their children in December. Preparations start to welcome the men, but a form of suspense and a long, tiring wait set in: whose husband will come first? The men arrive with the snow. The women are shy, they need time to be in the presence of men. But the children are happy to be close to their fathers. Spring arrives, tense. Men depart for the land of the tsars. The women, weak and sad, need to find strength to take care of the children.
Best Fiction Award Nepal Panorama
Sponsored by Mila Productions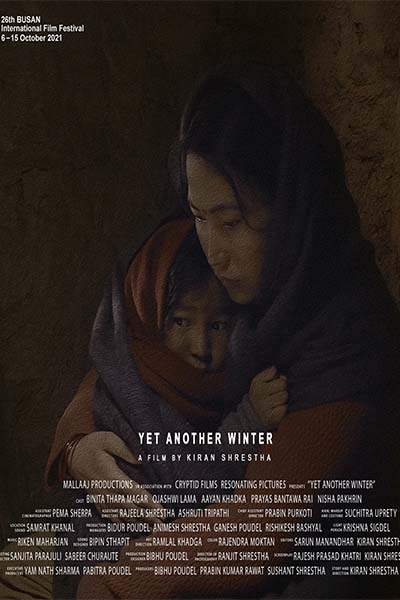 Yet Another Winter
dir. Kiran Shrestha | 22 min| Nepal 2021
Hoping her deaf five year-old daughter Radha might be able to hear and speak, Yasodha, 25, a devoted mother, visits the shaman in the nearby village. As per ritual, the shaman tells Yasodha to go to a temple in the heart of Kathmandu. Yasodha tries to convince her husband and sister to accompany her, but they refuse. So she leaves alone for the city with her daughter. Upon reaching the temple, Yasodha learns about another goddess temple, where she is told to lock away her daughter until she utters a word. Yasodha follows the ritual and locks Radha inside the temple, eagerly waiting for her to speak.
Best Documentary Award Nepal Panorama
sponsored by Film Development Board (FDB) Government of Nepal
God's Buffalo
dir. Bishnu Kalpit | 14 min| Nepal 2021
Homan Singh Shivabhakti ekes out a living farming in the hills of Sindhupalchowk district, east of Kathmandu. He loves and worships his buffalo which has brought him all the good things in his life. All is well until devastating floods ravage the area. Homan Singh's buffalo disappears.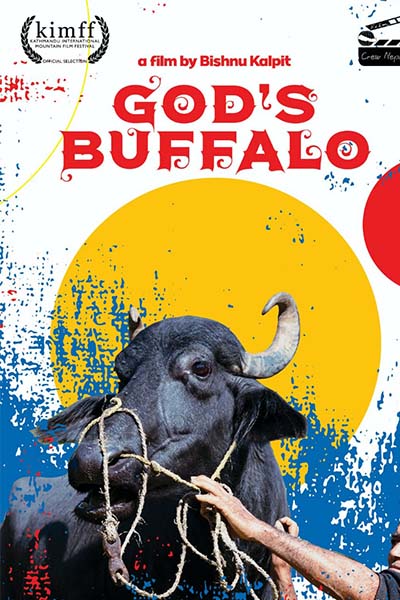 Jury Special Mention Nepal Panorama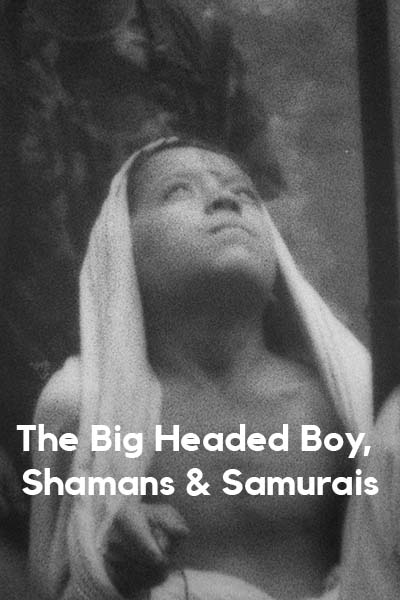 The Big Headed Boy, Shamans & Samurais
dir. Bibhusan Basnet/ Pooja Gurung | 38 min | Nepal 2020
A film crew travels across remote villages in Western Nepal looking for the perfect kid who can play the hero in their upcoming film.
Best ICIMOD Mountain Film
sponsored by ICIMOD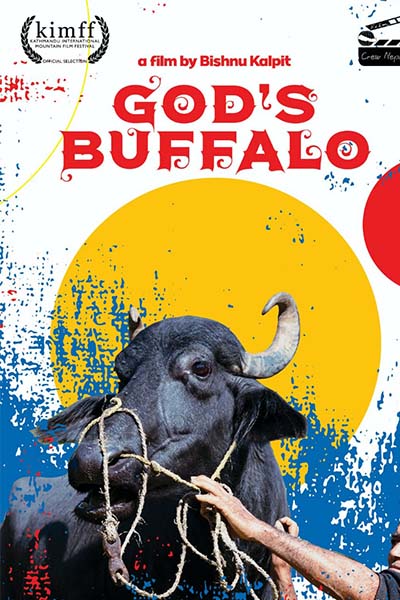 God's Buffalo
dir. Bishnu Kalpit | 14 min| Nepal 2021
Homan Singh Shivabhakti ekes out a living farming in the hills of Sindhupalchowk district, east of Kathmandu. He loves and worships his buffalo which has brought him all the good things in his life. All is well until devastating floods ravage the area. Homan Singh's buffalo disappears.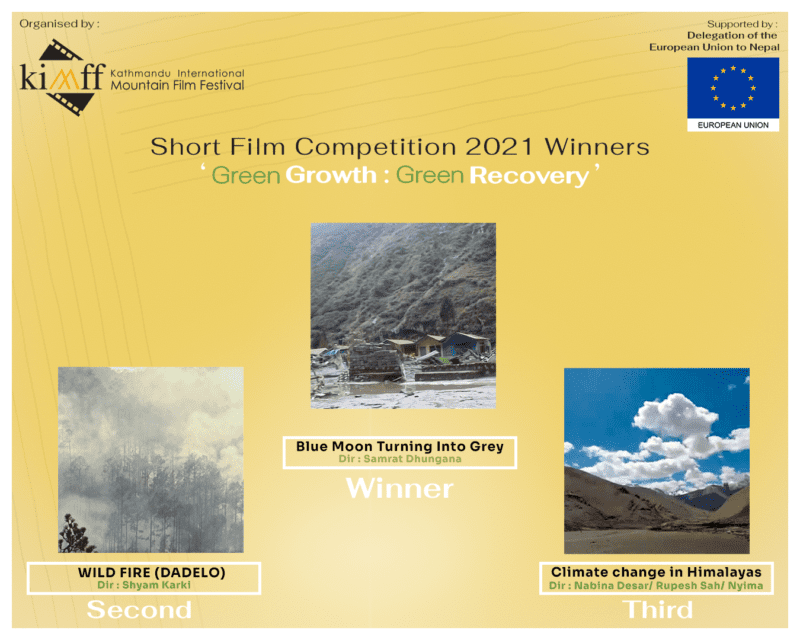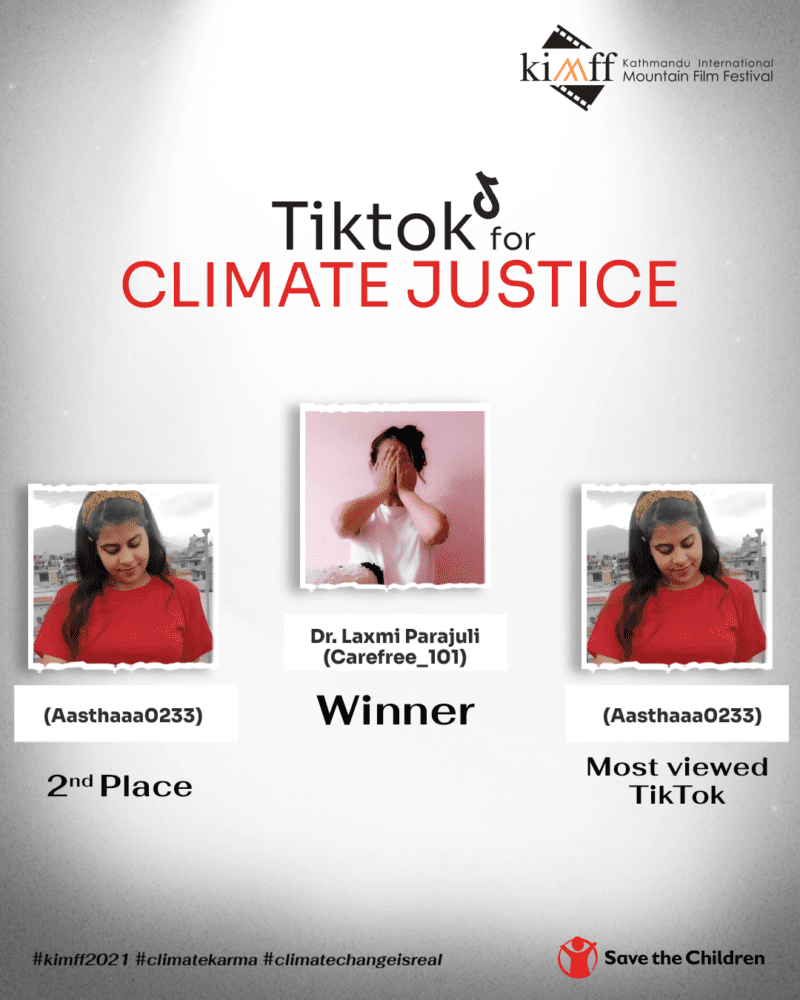 Anup Baral
Anup Baral is a renowned theatre director, actor, and conceptual artist. He has a Master's degree in Acting from India's National School of Drama. Baral has directed and conceptualized more than three dozen plays as well as acted in numerous productions in his two decade-long career. He is known as a visual poet and experimental director who brings multi-disciplinary approaches to theatre and through live performance, visual art, and digital media. Baral's theatre pieces, performances, and installations explore such themes as urban conflict, body politics, migration, and marginalization, and many more. His directorial ventures Malami, Jaat Sodhnu Jogiko, Kathadesh, Talak Jung vs Tulke, Kafka Ek Adhyayan, Court Martial, and Thirty Days In September. Memories of Legend was a multimedia theatre collaboration between Bangladesh, India, Nepal, Pakistan, and Sri Lanka organized by the Japan Foundation. Baral was awarded the Rashtriya Pratibha Puraskar in 1999 and the Balkrishna Sama Award in 2013 for his contribution to Nepali Theatre. He won the national Best Actor award for Dashdhunga. Dokh, his newest directorial film venture is soon to be released.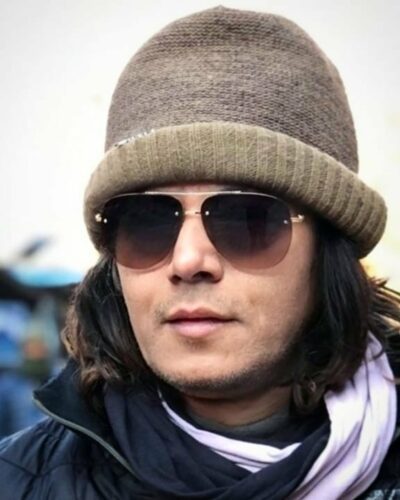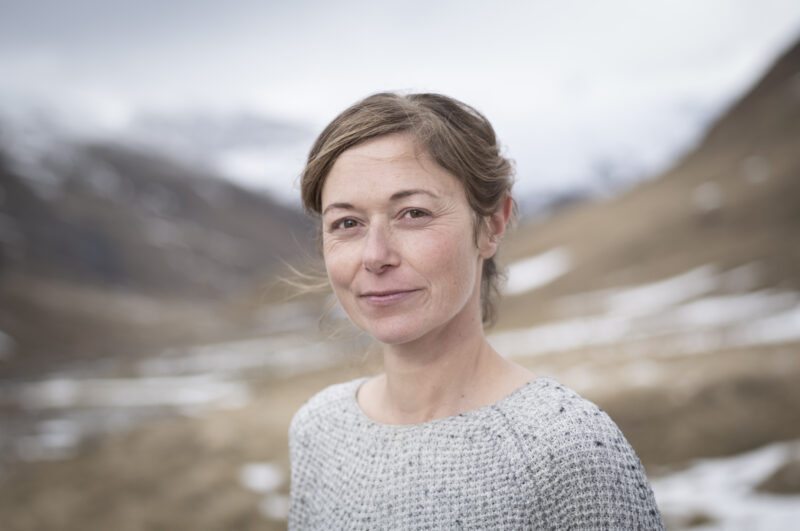 Caroline Fink
Caroline Fink, 44, is a filmmaker, photographer, and writer based in Switzerland. A passionate alpinist, her work focuses on the Alps, the mountains of the world, and people connected to the mountains. Discovering for herself, being fully immersed, and looking at the world with the eyes of a child are the most important tools of Fink's work. She firmly believes that what moves oneself has the power to inspire others. Fink specialize in direction and camerawork. As a photographer she works in the genres of classic reportage and alpine photography, and has a close cooperation with Leica Switzerland. Fink is also a lecturer for photography at a high school for applied sciences. She has a Master's degree in sociology and remains highly in sociocultural topics. Fink lives in the centre of Zurich, but spends over a hundred days a year outdoors in Switzerland or abroad. A recent project led her to Nepal, where she worked as a cameraperson for an all-female expedition to Dhaulagiri.
www.caroline-fink.ch
Mario Casella
Casella has made documentaries and explored climbing around the world. After multiple experiences on the entire Alpine arc, he climbed some of the highest peaks in the world, including Cho Oyu without oxygen (8,201m), Nevado Huascaran (6,768m), Mount McKinley (6,195m), Pic Lenin (7,134m), the Damavand volcano (5,671m), and Ararat (5,137m), skied Muztaghata (7,546m) and Kazbek (5,047m), and traversed skis Elbrus (5,642m) north-south on skis. Casella is an award-winning author of four books. Cime di Guerra-The Gasherbrum IV in the Conflict Between India and Pakistan (2004) chronicled attempts to climb Gasherbrum IV. Black-White-Black: A Journey Through the Mountains and History of the Caucasus (2011) won many awards, including the prestigious ITAS Award (Trento) for Best Mountain Book of the two-year period in 2013. 2011-2012. Likely Calendar (2014)is a book of short stories. The Weight of Shadows (2017), on the delicate theme of lies and slander in the history of mountaineering was lauded by critics. Beyond Dracula: A Winter Walk in the Carpathians (2019) won the Cortina Montagna Award. Casella's books have been translated into French and German.